Next to my wedding anniversary, Valentine's Day is one of the most important days of the year for my wife and me. But since we've become parents, a date night that involves anything other than SpaghettiOs, diaper changes and Barbies has become a figment of our imaginations.
However, now that our daughter's getting older, we're able to send her for some grandma time while we catch up over dinner. Thanks to free babysitting, my wife and I will enjoy a nice Valentine's Day dinner this weekend. Want to impress your valentine this year with something sweet, chocolatey and super simple to make? Try this recipe for Watermelon and Chocolate Fondue!
WATERMELON AND CHOCOLATE FONDUE
INGREDIENTS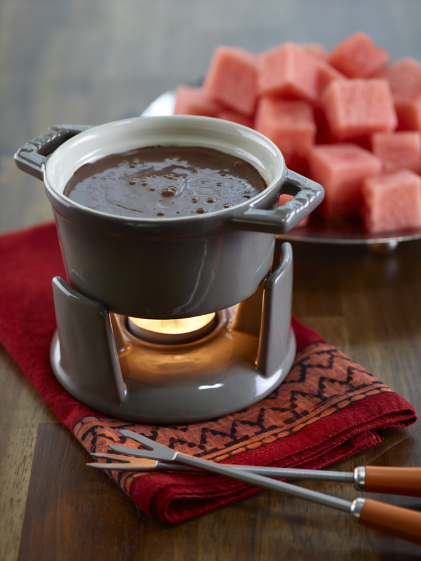 4 cups watermelon cut into 1" cubes
½ cup fat-free half & half + extra reserve
¾ teaspoon cinnamon
½ teaspoon chili powder
1/8 teaspoon cayenne
½ teaspoon coriander
8 ounces dark chocolate (at least 60 percent cocoa powder)
INSTRUCTIONS
Wrap watermelon cubes in paper towels to soak up excess fluid. Set aside.
In a medium saucepan, bring half & half and spices to almost a simmer. Remove from heat and stir in chocolate. Let chocolate melt, then continue to stir until thoroughly blended and creamy. Adjust flavors.
Transfer the fondue to a fondue pot and heat according to directions. (If fondue becomes too thick, stir in extra reserve half & half, one tablespoon at a time, to desired consistency.)
Place watermelon cubes on a platter with fondue forks and skewers.
UP NEXT: IS IT POSSIBLE TO LOVE WATERMELON TOO MUCH?