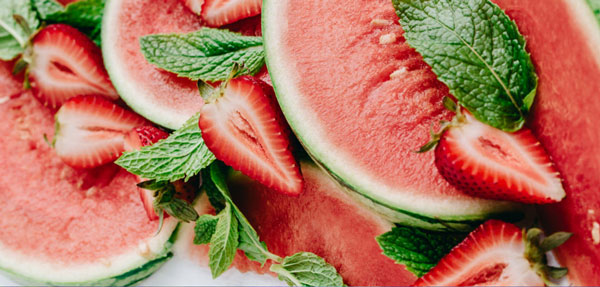 Perfect treat for a hot Summer's day that can be easily prepared in just over five minutes.
Skill Level
Basic
Preparation Time
Approximately 5 – 10 minutes
Equipment/Utensils Required
Food processor/blender
Stove top
1 x Saucepan
1 x mixing bowl
1 x knife (for cutting up watermelon)
1 x whisk
measuring cups
1 x wooden spoon
1 x freezer container
Ingredients
1/2 cup – cold water
5 cups – seedless watermelon (cut into cubes)
1 cup – frozen strawberries
1/2 cup – sugar
1/4 cup – fresh mint leaves
Method
Prepare your ingredients by cutting seedless watermelon into cubes (enough for five cups) and measuring out other ingredients.
In a large saucepan, combine water and sugar over medium heat.
Using a whisk, stir mixture continuously until it begins to boil.
Turn the heat down and allow the sugar and water to simmer until the mixture becomes transparent (approximately 4 minutes) .
Once transparent, remove from element and set aside.
In a blender or food processor, combine watermelon, strawberries and mint and blend until mixture is smooth and free of lumps.
In a bowl using a wooden spoon, combine the melon/berry mixture with the warm sugar/water mixture.
Once combined, you can eat as is or alternatively spoon this mixture into a clean ice cream container or a plastic lidded container and chill in the freezer.
After an hour and a half this mixture will be chilled and ready to serve.
(Recommendation– watermelon and strawberry sorbet can be served in mason jars with a single mint leaf on top or a wafer for a fancy touch)