There is nothing more refreshing than a spoonful of my Easy Watermelon Ginger Granita. Sweetened with a simple syrup infused with fresh ginger. Add to the pureed watermelon juice and just a squeeze of fresh lime. This one hits the spot! Let me show you how I make this.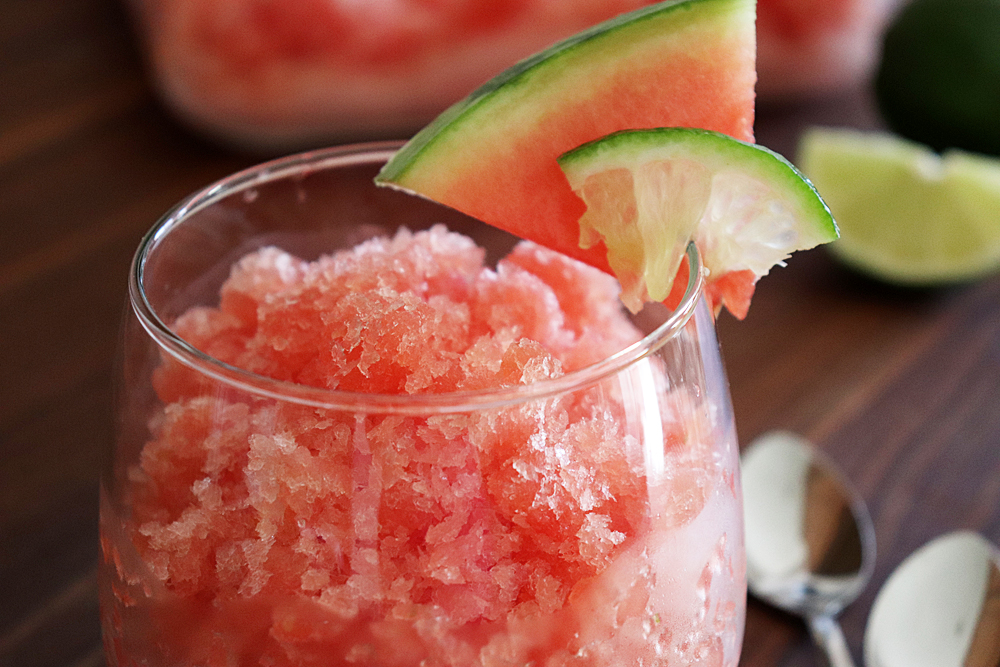 How to make my Easy Watermelon Ginger Granita
The first step is to remove the rind from your watermelon and cut it into chunks. This just makes it easier to puree in a food processor. It's important to do this in batches as once it becomes a liquid, it can seep out from the edges of your processor.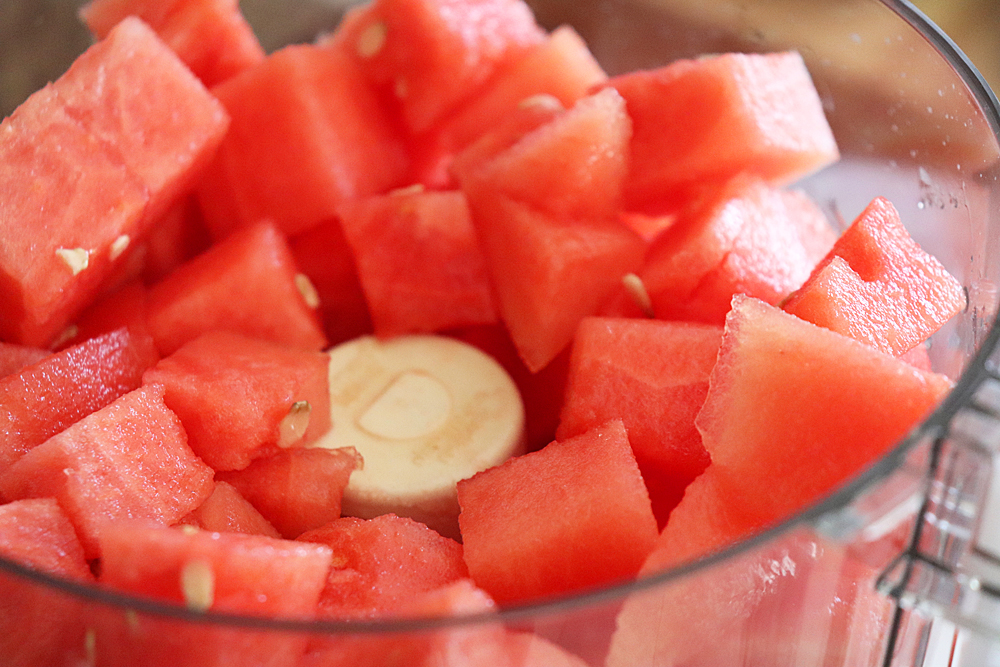 Fresh ginger intimidates many of us, so let me show a quick and simple way to peel it. I break apart my ginger into pieces and freeze them for later use. Then, while still frozen, use the edge of a soup spoon to scrape away the paper like exterior. From there, you can use a sharp knife to cut into slices. That extra knob of ginger goes back into a freezer safe bag and can be used again later!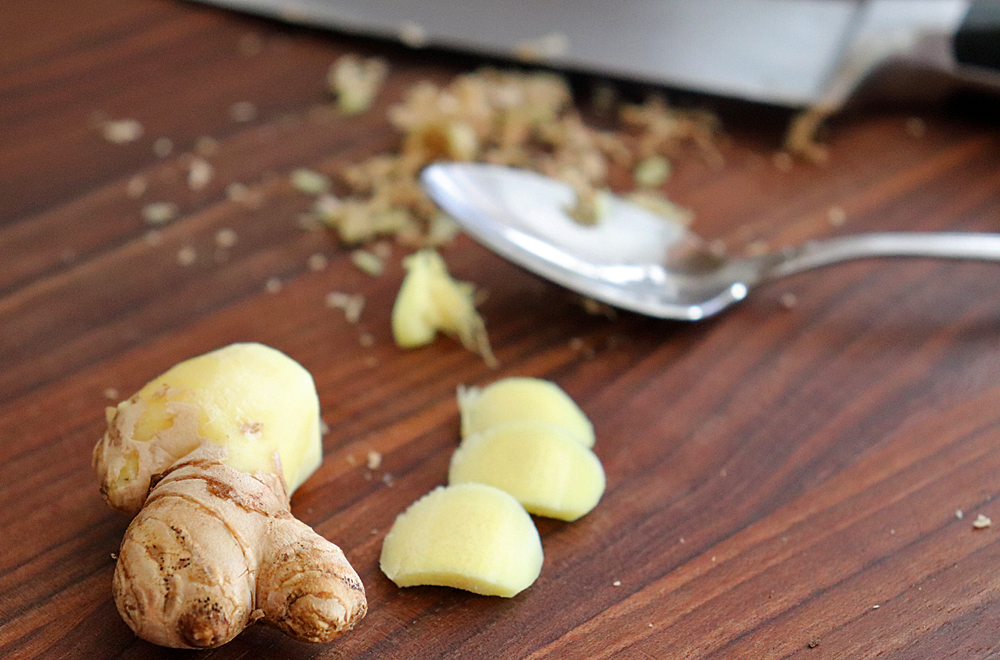 Now that you have your ginger slices, you'll create a simple syrup. A simple syrup is nothing more than sugar dissolved over heat in water. To that, we add the ginger and as it cools, it will infused its flavor. Strain the cooled liquid into your watermelon juice. The ginger has done its job.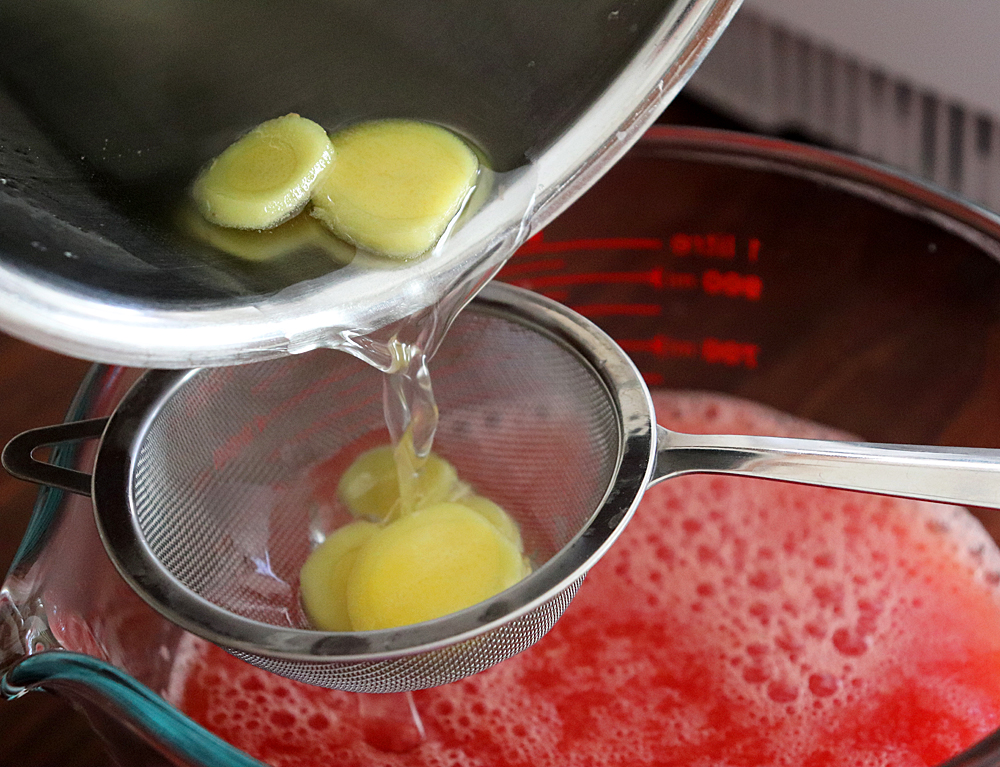 How to turn watermelon juice into Easy Watermelon Ginger Granita
Granita takes a little bit of tending to. Once you have combined your watermelon juice and ginger simple syrup, pour it into a freezer safe pan. I like these glass Pyrex squares for this job. Set your timer for 30-40 minutes. Using a fork, scrape any areas that have begun to freeze.
Now, continue setting your alarm for the same 30-40 minutes until you have done this 3-4 times. You should have perfect little crystals of watermelon ice!
I like to serve this with a small wedge of watermelon and/or a lime wedge just for some color and interest. You could go even further and dip the rim of the glass before filling it and then go into some sea salt. Very fancy!
I offer my guests these little dessert spoons (found on Amazon) and serve in a variety of glasses, like this stemless wine glass.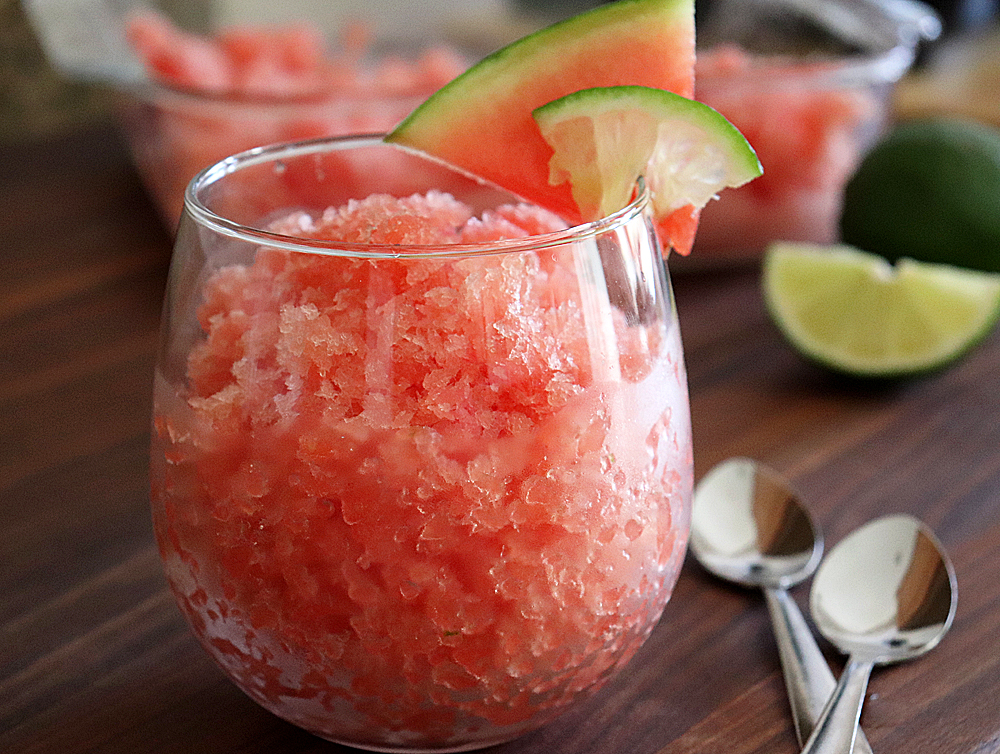 It's so yummy! I really hope that you give it a try.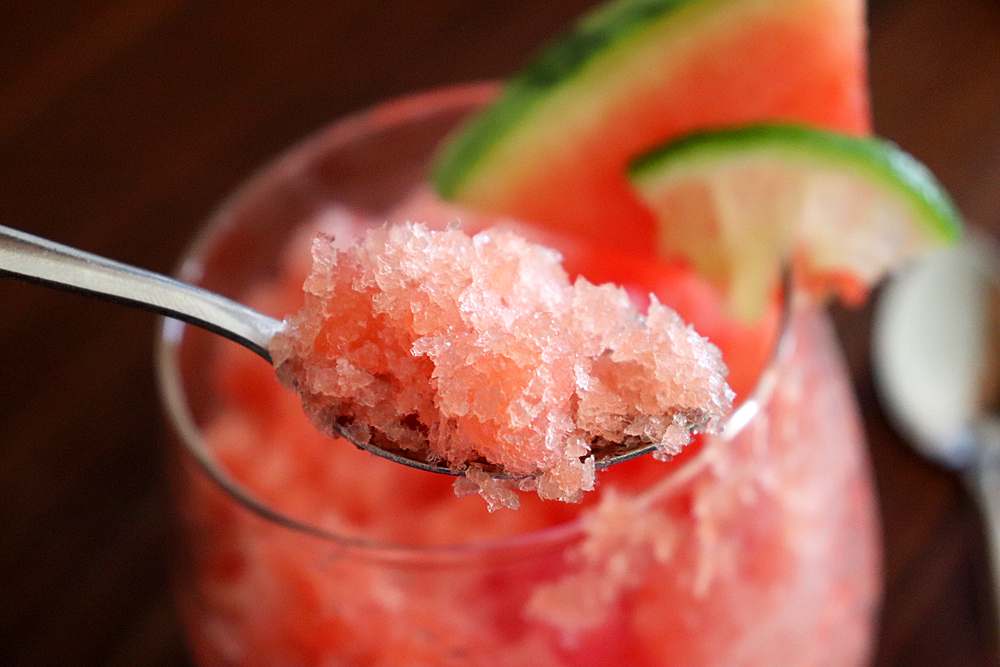 Did you make my Easy Watermelon Ginger Granita? Leave me a comment below and let me know what you thought.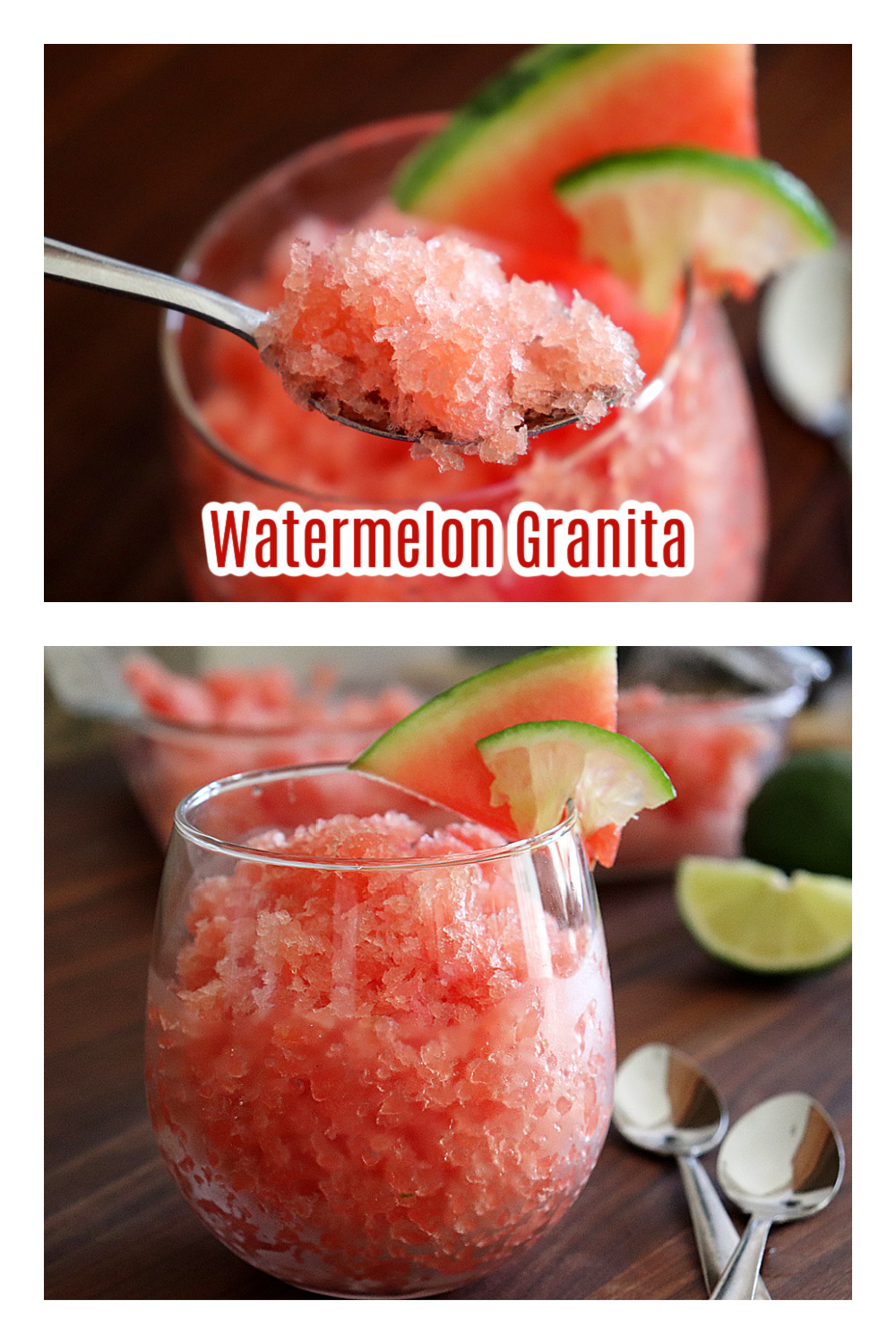 Preparation Time:
Freezing Time:
Equipment Required:
Sharp Knife
Food Processor
Ingredients:
1 personal sized seedless Watermelon (a few small slices reserved for garnish) (about 1 1/2 cups of juice)
Lime Juice
Lime Zest, plus part of the lime for garnish
FOR THE GINGER SIMPLE SYRUP:
1/4 c Granulated Sugar
3 tbsp Water
4 slices of Fresh Ginger
Method:
Cut the watermelon into cubes and in batches, process in the food processor in batches until you have 1 1/2 cups of watermelon juice. You can strain it at this point if you'd like. Allow to cool. Add a squeeze of lime juice, if desired.
In the meantime, place sugar, water and fresh ginger in a small sauce pan. Bring to a boil then remove from the heat and allow to cool. Strain the liquid into the watermelon juice. Discard the ginger slices.
Pour the mixture into a freezer safe dish such as Pyrex. Set the timer for 30-40 minutes.
Using a fork, scrape the mixture that has frozen. Reset the timer for 30-40 minutes, scrape and repeat this process 3-4 times until you get granita.
Serve in a chilled glass with a small wedge of watermelon or lime.
OPTIONAL: You could also rim the glass with watermelon juice and salt, if desired.