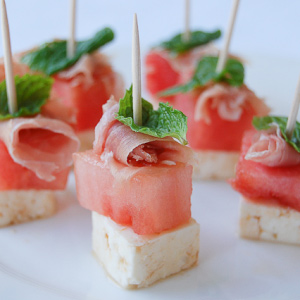 Looking for something a little different to serve as an appetizer? How about these mouth watering, prosciutto, watermelon, and feta skewers.
Skill Level
Basic Skill Level Required.
Preparation Time
Approximately 10 minutes.
Equipment/Utensils Required
24 x large toothpicks
1 x knife
Serving platter
Ingredients
2 cups – seedless watermelon cubed
8 slices – prosciutto
1 large block – danish feta
Sprinkle – pepper
1 whole – lime
12 – mint leaves (cut in half)
Method
Cut watermelon into cubes. You will need 24 cubes of watermelon.
Slice each piece of your prosciutto into three pieces and each piece of mint in half.
Cut your block of feta into at least 24 cubes.
Now that you have prepared your ingredients, thread one piece of feta onto the tooth pick, followed by one cube of watermelon.
Fold your piece of prosciutto in half and thread onto tooth pick above watermelon. Now thread your halved piece of mint on top.
Place on serving platter. Using your fingers, sprinkle a pinch of pepper on top of each portion. Squeeze lime as required.
Enjoy!