A Watermelon is a Watermelon, Right?

Did you know that there are hundreds of different watermelon varieties enjoyed daily.
When picking a watermelon from your local fruit and vegetable market the only decision you will need to make is the size. Many small markets only offer one type of watermelon. This has led us to believe that there is only one type although just like apples, watermelons come in a number of varieties.
Globally 200 to 300 different varieties of watermelon are accounted for although only 50 of these are enjoyed regularly. Of the 300 varieties it is no surprise that the most loved are on the sweeter side of the scale.
Differentiating Between Watermelons
We tend to use five different terms to differentiate between watermelon varieties. These five terms refer to the characteristics of the melon rather than the direct variety. This allows us to combine multiple watermelon varieties under one category. The five terms used to describe watermelons are:
A Seeded watermelon –
Used to describe a basic watermelon that is round or oblong and weighs between 15 t0 45 pounds. These watermelons contains noticeable black seeds.
A Seedless Watermelon –
Hybrid watermelons that are the most popular due to their seedless nature. These watermelons are generally around the 15 pound mark. Seedless watermelons often have small and easily edible white seeds.
Some varieties of watermelon that fall into this category include:
Crimson
Bijou
Jack of Hearts
King of Hearts
Millionaire
Nova
Queen of Hearts
Trio
A Miniature Watermelon –

The smaller variety of watermelons that has a thin rind.
Watermelon varieties such as the Sugar Baby and the Tiger Baby fall under this category.
An Orange or Yellow Watermelon –

Varieties of watermelon that lack lycopene often fall under the orange or yellow watermelon category.
Some watermelon varieties that fall under this category include:
Desert King
Tender-gold
Yellow Baby
Yellow Doll
Cousins of the Watermelon
Before we delve into finding out the varieties of watermelon, you may be wondering who they share some relation to. The scientific name for a watermelon is 'Citrullus Lanatus'. 'Citrullus Lanatus' are a part of the 'Curcurbitaceae' family making their closest cousins the:
Cucumber
Pumpkin and
Squash
Watermelon Dictionary – 26 Varieties of Watermelon
Below you can read about a number of different watermelon varieties along with their taste, texture and appearance.
If you are a keen gardener with a green thumb, why not buy some seeds online and grow them in your very own backyard!
Amarillo Watermelons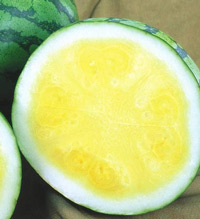 Amarillo Seeds: 

25 Seeds / $18.95

Seeded or Seedless Variety
Seedless variety
Shape of Watermelon
Round / Approximately 15 pounds in weight

Flesh Type / Flavor

Bright and crispy flesh

Sweet in flavor

Color

Bright yellow flesh / green skin with narrow dark green stripes
Bijou Watermelons

Bijou Seeds: Similar seeds 100 / $3.50 
Seeded or Seedless Variety
Seedless

Shape of Watermelon

Round / Approximately 4 pounds

Flesh Type / Flavor

Firm and Crisp

Sweet / Can be enjoyed alone

Color

Red
Black Diamond Watermelons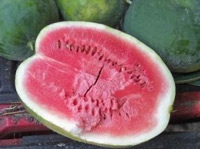 | | |
| --- | --- |
| Black Diamond Seeds: 10 Seeds / $2.80 | |
| Seeded or Seedless Variety | Seeded – Grey seeds |
| Shape of Watermelon | Oblong shape / Approximately 30 to 50 pounds in weight |
| Flesh Type / Flavor | Crisp flavorful flesh |
| Color | Bright red flesh / Dark black/green rind |
 Calsweet (Bush) Watermelons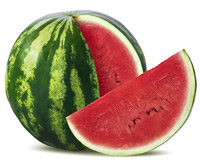 | | |
| --- | --- |
| Calsweet Seeds: 70 Seeds / $5.45 | |
| Seeded or Seedless Variety | Seeded |
| Shape of Watermelon | Round or oval/ 10 to 12 pounds in weight |
| Flesh Type / Flavor | Sweet and crisp flesh |
| Color | Red flesh / Light and dark green stripped rind |
Captivation Watermelons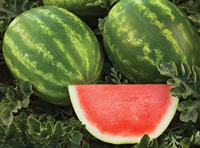 | | |
| --- | --- |
| Captivation Seeds: Similar seeds 100 / $3.50  | |
| Seeded or Seedless Variety | Seedless |
| Shape of Watermelon | Oblong / Uniform in shape / 14 to 17 pounds in weight  |
| Flesh Type / Flavor | Firm flesh that is sweet and tasty |
| Color | Bright red flesh with deep green rind |
Charleston Grey Watermelons
| | |
| --- | --- |
| Charleston Grey Seeds: 50 Seeds / $15.00  | |
| Seeded or Seedless Variety | Seeded – One of the most popular seeded watermelon varieties |
| Shape of Watermelon | Oblong / Approximately 25 pounds in weight |
| Flesh Type / Flavor | Sweet fiber-less flesh |
| Color | Red flesh with a grey/green colored rind |
Crimson Sweet Watermelons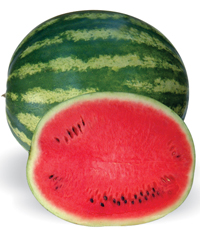 | | |
| --- | --- |
| Crimson Sweet Seeds: 60 Seeds / $8.50  | |
| Seeded or Seedless Variety | Seeded – Small black seeds |
| Shape of Watermelon | Oblong / Approximately 20 to 25 pounds in weight |
| Flesh Type / Flavor | Sweet flesh with a high sugar content. This watermelon is one of the most popular within the species. |
| Color | Bright red flesh (high in lycopene) / Light green watermelon with dark green stripes |
Estrella Watermelons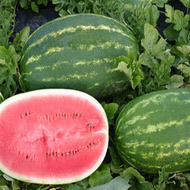 | | |
| --- | --- |
| Estrella Seeds: Similar Seeds 100 / $3.50  | |
| Seeded or Seedless Variety | Seeded |
| Shape of Watermelon | Long although Uniform in shape / 20 to 24 pounds in weight |
| Flesh Type / Flavor | Exceptional flesh that is sweet in flavor |
| Color | Red fleshed with dark and light green stripped skin. |
Exclamation Watermelons
| | |
| --- | --- |
| Exclamation Seeds: Similar Seeds 100 / $3.50  | |
| Seeded or Seedless Variety | Seeded – Small pips |
| Shape of Watermelon | Block fruit shape / 17 to 21 pounds in weight |
| Flesh Type / Flavor | Firm flesh with Crimson Sweet flavor. |
| Color | Red flesh / Features Crimson Sweet rind pattern with light and dark green stripes |
Excursion Watermelons

| | |
| --- | --- |
| Excursion Seeds: Similar Seeds 100 / $3.50  | |
| Seeded or Seedless Variety | Seedless |
| Shape of Watermelon | Oval and  Blocky / 18 to 20 pounds |
| Flesh Type / Flavor | Firm fleshed and sweet watermelon.  |
| Color | Red flesh / Light green rind with medium to dark stripes |
Fascination Watermelons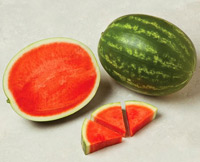 | | |
| --- | --- |
| Fascination Seeds: Similar Seeds 100 / $3.50  | |
| Seeded or Seedless Variety | Seedless |
| Shape of Watermelon | Oblong / 16 to 20 pounds |
| Flesh Type / Flavor | Firm flesh that is sweet in flavor.  |
| Color | Deep red flesh / glossy green skin with Crimson stripes |
Harvest Moon Watermelons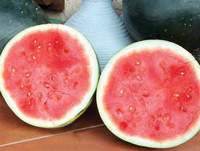 | | |
| --- | --- |
| Harvest Moon Seeds: 5 Seeds / $3.00 | |
| Seeded or Seedless Variety | Seedless hybrid watermelon |
| Shape of Watermelon | Round / Medium sized watermelons / 18 to 20 pounds in weight |
| Flesh Type / Flavor | Crisp / Sweet in flavor |
| Color | Pink flesh with dark green rind that features some yellow dotting. |
Jamboree Watermelons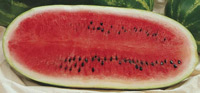 | | |
| --- | --- |
| Jamboree Seeds: Similar Seeds 100 / $3.50  | |
| Seeded or Seedless Variety | Seeded |
| Shape of Watermelon | Elongated uniform fruit / 25 to 27 pounds in weight |
| Flesh Type / Flavor | Firm flesh that has an excellent flavor. |
| Color | Deep red flesh |
Jubilee Watermelons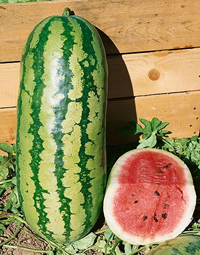 | | |
| --- | --- |
| Jubilee Seeds: 20 Seeds / $7.95  | |
| Seeded or Seedless Variety | Seeded |
| Shape of Watermelon | Oblong (elongated) Watermelon / 25 to 40 pounds in weight |
| Flesh Type / Flavor | Very sweet watermelon with finely textured flesh. |
| Color | Bright pink/red flesh / Dark green stripped rind |
Kingman Watermelons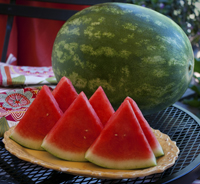 | | |
| --- | --- |
| Kingman Seeds: Similar Seeds 100 / $3.50  | |
| Seeded or Seedless Variety | Seedless |
| Shape of Watermelon | Round and Oval in shape / 18 to 22 pounds in weight |
| Flesh Type / Flavor | Firm and crisp flesh that is sweet in flavor. |
| Color | Bright red flesh / Light green skin with medium green stripes. |
Melody Watermelons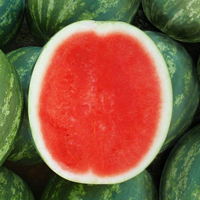 | | |
| --- | --- |
| Melody Seeds: Similar Seeds 100 / $3.50  | |
| Seeded or Seedless Variety | Seedless |
| Shape of Watermelon | Oblong in shape / approximately 14 to 16 pounds |
| Flesh Type / Flavor | Crisp and flavorsome  |
| Color | Dark red flesh with deep green skin |
Moon and Stars (Red) Watermelon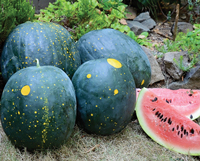 | | |
| --- | --- |
| Moon and Stars Seeds: 15 Seeds / $11.00  | |
| Seeded or Seedless Variety | Seeded |
| Shape of Watermelon | Round and blocky / Can grow up to 40 pounds in weight |
| Flesh Type / Flavor | Sweet flesh that is loved globally |
| Color | Red fleshed / Dark green rind with yellow spotting |
Sangria Watermelons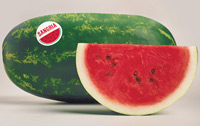 | | |
| --- | --- |
| Sangria Seeds: 100 Seeds / $15.00 | |
| Seeded or Seedless Variety | Seeded |
| Shape of Watermelon | Oblong / 20 to 25 pounds in weight |
| Flesh Type / Flavor | Sweet and juicy red flesh |
| Color | Red fleshed / Mostly green skinned with light green stripes |
Sugar Baby Watermelons (Garden Baby)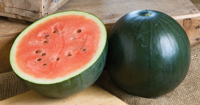 | | |
| --- | --- |
| Sugar Baby Seeds: 50 Seeds / $30.00 | |
| Seeded or Seedless Variety | Seeded |
| Shape of Watermelon | Round / 7 to 10 pounds in weight |
| Flesh Type / Flavor | Firm and fine grained flesh / Very sweet in flavor making it a popular choice |
| Color | Bright red flesh / Solid dark green colored skin |
Sweet Dawn Watermelons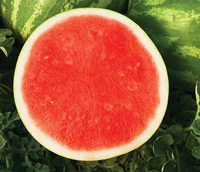 | | |
| --- | --- |
| Sweet Dawn: Similar Seeds 100 / $3.50  | |
| Seeded or Seedless Variety | Seedless |
| Shape of Watermelon | Round / Oblong / Approximately 16 pounds |
| Flesh Type / Flavor | Firm and crisp flesh that is sweet in flavor.  |
| Color | Dark red flesh / smooth green skin |
Sweet Gem Watermelons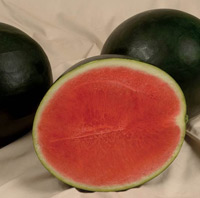 | | |
| --- | --- |
| Sweet Gem: Similar Seeds 100 / $3.50  | |
| Seeded or Seedless Variety | Seedless |
| Shape of Watermelon | Round / Approximately 15 pounds in weight |
| Flesh Type / Flavor | Juicy / Sweet and juicy |
| Color | Dark red flesh with dark green glossy skin |
Sweet Polly Watermelon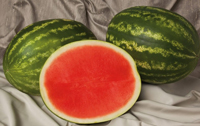 | | |
| --- | --- |
| Sweet Polly Seeds: Similar Seeds 100 / $3.50  | |
| Seeded or Seedless Variety | Seedless |
| Shape of Watermelon | Oval / 13 to 17 pounds in weight |
| Flesh Type / Flavor | Sweet flavor similar to the Crimson Sweet watermelon variety. |
| Color | Dark red flesh / Deep green skin with Crimson stripping |
Syngenta Watermelon
| | |
| --- | --- |
| Syngenta Seeds: Similar Seeds 100 / $3.50  | |
| Seeded or Seedless Variety | Seedless / Crimson Sweet Family |
| Shape of Watermelon | Oblong or Oval / Approximately 15 pounds in weight  |
| Flesh Type / Flavor | Crisp and very firm fleshed watermelon |
| Color | Red flesh / Crimson stripped appearance |
Traveler Watermelon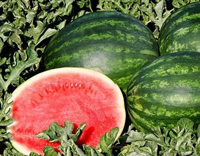 | | |
| --- | --- |
| Traveler Seeds: 100 Seeds / $4.00 | |
| Seeded or Seedless Variety | Seedless / High yielding watermelon |
| Shape of Watermelon | Uniform oblong shaped watermelon / These melons weigh between 10 and 15 pounds. |
| Flesh Type / Flavor | Crisp flesh / Sweet and juicy |
| Color | Red Flesh / Crimson dark and light green stripped skin |
Triple Treat Watermelon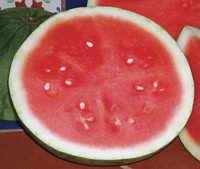 | | |
| --- | --- |
| Triple Treat Seeds: 10 Seeds / $9.95 | |
| Seeded or Seedless Variety | Seedless hybrid variety |
| Shape of Watermelon | Round / These watermelons weigh between 8 and 10 pounds on average. |
| Flesh Type / Flavor | Crispy and sugary / Very sweet flesh |
| Color | Bright red flesh with green on green stripped, smooth skin. |
Yellow Doll/Baby Watermelon
| | |
| --- | --- |
| Yellow Doll Seeds: 16 Seeds / $11.00 | |
| Seeded or Seedless Variety | Seeded |
| Shape of Watermelon | Round and uniform. These watermelons weigh between 5 and 8 pounds on average. |
| Flesh Type / Flavor | Yellow, juicy and sweet flesh. These watermelons are often used in gourmet fruit trays. |
| Color | Yellow flesh with dark and light green stripes on the skin. |